From Blueprint to Application: Sunway Property Collaborates with Sunway University Students to Deliver a Dream Home!
3
-min read
The students of Interior Architecture at Sunway University joined a cutting-edge initiative to design for Sunway Belfield, an upcoming high-rise residential development in Kuala Lumpur by Sunway Property.

The initiative offers students insights into the real estate industry, as well as fosters stronger ties between Sunway's business divisions.
Initiated by Sunway iLabs Foundry and in collaboration with Sunway Property and Sunway University's School of Arts, the Sunway Belfield Interior Design Challenge Demo Day gave 19 Sunway University students pursuing BA (Hons) in Interior Architecture and Diploma in Interior Design the opportunity to design the floor plan and layouts of Sunway Belfield – an upcoming high-rise residential development in Kuala Lumpur.
Doubled as an assignment in their curriculum and a proposal for Sunway Belfield's Type C, Type D and Type E units, this project provided them an outlet to unleash their creativity whilst fostering synergy with one of the country's top property developers outside of the classroom.
Each student was allocated five minutes to present their concept virtually through Zoom, which included an overview of their precedent studies, preliminary ideas, design concept, mood board, floor plan, perspectives and a 360-degree view of the unit. After their presentation, the judges posed questions to the students to gain a better perspective of their rationale in terms of selected materials, colour palette, and whether the designs were tailored to a specific target audience.
Judges of the challenge included School of Arts Pro Vice-Chancellor (Education) & Associate Dean Professor Matthew Sansom, and Sunway Property's Planning Design & Development Senior Manager Irene Ng, Assistant Manager Siti Sarah Ramli, and Senior Executive Andrew Peh.
The Winners
Out of 19 students, three emerged as winners of the challenge!
Among them was Syifa Fitri Dzikrina Firdausa – the brains behind the design for Type C.
Her modern Bohemian chic design embraced organic décor and warm tones for a homely ambience.
I Winnie Tan had the winning design for Type D with a modern tropical Bali theme, featuring natural materials such as rattan and teak wood interspersed with marble and terrazzo. Her concept was based on the idea of bringing the vacation to your doorstep as many are still unable to travel!
Bryan Aw championed the design for Type E inspired by a cool Scandinavian theme. Incorporating smart home systems, his design allows the resident to monitor and remotely access their home appliances and devices, including lights, climate, entertainment and security systems, taking home digitalisation to the next level.
The winners of the challenge were each awarded RM800 worth of Sunway Pals points, a Sunway Lagoon Annual Pass, a Certificate of Recognition for Best Design from Sunway Property, and acknowledgement from the senior management as well as a press release in appreciation of their spectacular designs.
Sunway continues to foster cross-business collaborations among various stakeholders to engender creativity and innovation, as well as to advance our goal of bringing together minds and expertise of different industries to generate real-world solutions towards the betterment of our nation.
< Previous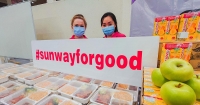 Celebrating Unsung Heroes Volunteering at PPVs Nationwide
Next >
Let's Start 'Em Young!