Healthcare
Sustainability
How Food Choices Can Shape Your Future
Healthcare
Sustainability
5
-min read
Diabetes cases in Malaysia have been on the rise over the years, jumping from 11.2 per cent in 2011, to 13.4 per cent in 2015, further escalating to 18.3 per cent by 2019.

By being more mindful about our dietary choices and physical activities – we can not only choose to do things more sustainably in our daily routines, but also ensure the sustainability of our planet.
As far as Non-Communicable Diseases (NCDs) go, diabetes is one of the most widespread in Malaysia. According to the National Health and Morbidity Survey (NHMS) 2019 conducted by the Ministry of Health (MOH), nearly 18.3% or 3.9 million adults in Malaysia, aged 18 and above, are living with diabetes, with half unaware of their condition.
This World Diabetes Day, we encourage you to embark on a transformative journey towards a healthier life. While the obvious choice for diabetics (or those on the verge of diagnosis) is to avoid sugary foods, we will also share strategies that include making sustainable dietary choices, portion control, engaging in regular physical activities, and prioritising mental well-being. In this context, we strive to both nourish our bodies, as well as contribute to a healthier planet.
Nourish Your Body, Nourish the Planet
With several million Malaysians bearing the brunt of diabetes to-date, making conscious dietary choices can lay the foundation for fostering a harmonious relationship between personal health – and the health of our planet.
Sunway XFarms, known for its sustainable farming practices, offers a prime example of how we can nourish ourselves while caring for the environment.
By embracing sustainable farming methods such as regenerative agriculture and permaculture, Sunway XFarms prioritises soil health, biodiversity and water conservation. This results in nutrient-rich produce that both supports our well-being and minimises the ecological impact of our food choices.
"Generally, organic foods have been shown to have lower levels of toxic metabolites such as heavy metals, synthetic fertiliser, and pesticide residues. Consumption of organic foods may also reduce the exposure to antibiotic-resistant bacteria." – Jillian Tan, dietitian from SMCV
Portion Control: Savouring the Flavour, Reducing Food Waste
Portion control is vital for diabetes management. It helps maintain blood sugar levels, support the body's overall health, and reduce food waste and overeating.
According to Ms. Tan, following the healthy eating plate model helps to control your food portions. This method indicates that a quarter of your plate should comprise carbohydrates such as whole grains, legumes, or starchy vegetables – with the other quarter consisting of protein. Lastly, non-starchy vegetables and a serving of fruit should make up half of your plate.
Embrace Active Living
In the fight against diabetes, physical activity is key. Opt for environmentally friendly workouts like outdoor exercises and active commuting. Hiking, for instance, requires no additional resources and causes no harmful emissions. Not only do such activities manage weight and control blood sugar, but they also reduce our carbon footprint, contributing to planetary health.
"Adopting sustainable dietary choices alongside continuous physical activities will help to reduce the risk of various chronic illnesses including cardiovascular diseases, high blood pressure, and diabetes. One may also enjoy better weight management which prevents health issues associated with obesity or being overweight. Additionally, as diet and physical activity are closely connected to one's mental health, embracing such lifestyle may improve a person's mood and boost overall cognitive function," Ms Jillian Tan.
Empower Your Health Journey
Proper monitoring is essential for maintaining good health, particularly for individuals managing conditions such as diabetes. Dr. Lim advises that devices such as glucometers, and continuous glucose monitors (CGM), are available to help us accurately track our blood sugar levels.
Check your levels after consuming carbohydrates, missing meals, and even after taking medication. Digital devices are eco-friendly monitoring tools that allow us to monitor our health effectively while minimising environmental impact.
Mind-Body Wellness: Nurturing Mental Well-Being and Sustainable Living
Did you know that nurturing our mental well-being is integral in managing diabetes, and by proxy, our overall health?
Dr Ryan Tee Chun Keat, Consultant psychiatrist from SMCV advises that stress-reducing techniques and activities that bring joy contribute to better diabetes management and promote sustainable practices. Some examples include deep breathing exercises, progressive muscle relaxation and mindfulness. These techniques to support our personal health and the health of the planet.
"We can incorporate mindfulness in our daily living such as eating, walking, driving, mindful breathing and many more." – Dr Ryan Tee Chun Keat, Consultant Psychiatrist from SMCV
Through our initiatives and partnerships, Sunway continues to raise awareness on diabetes, about the environmental impact of food waste, and encourages practical yet responsible consumption, in line with our commitment towards advancing the United Nations Sustainable Development Goal (UN-SDGs), and in particular Goal 3: to ensure healthy lives and promote well-being for all at all ages, and Goal 12: to ensure sustainable consumption and production patterns.
Your individual choices can contribute to a healthier community and planet.
< Previous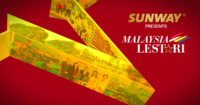 Malaysia Lestariku
Next >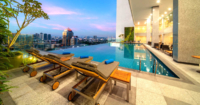 Home Away from Home