Rice-ing to the Occasion
3
-min read
According to the Social Security Organisation (Socso), nearly 90,000 employees lost their jobs this year. Klang Valley recorded the highest number of job losses (58%) followed by Penang (11%).

In the spirit of #KitaJagaKita, Sunway continues to play our part in extending help to those in need by providing immediate food aid.

Through Food for Thought campaign, Sunway distributed 4,050 packed meals to the urban poor in the Klang Valley during the CMCO period.
For many of us, the implementation of CMCO in Selangor and other affected districts was met with growing concern over job security. While businesses are still allowed to operate, many are barely staying afloat, forcing them to lay-off employees, and those who lost their jobs are struggling to put food on the table.
Stepping in to help, Sunway Pyramid, Sunway Velocity Mall and Sunway Putra Mall collaborated with two NGOs, Kechara Soup Kitchen and Adab Youth Garage to distribute 4,050 packed meals to the urban poor in the Klang Valley during the CMCO period via Food for Thought.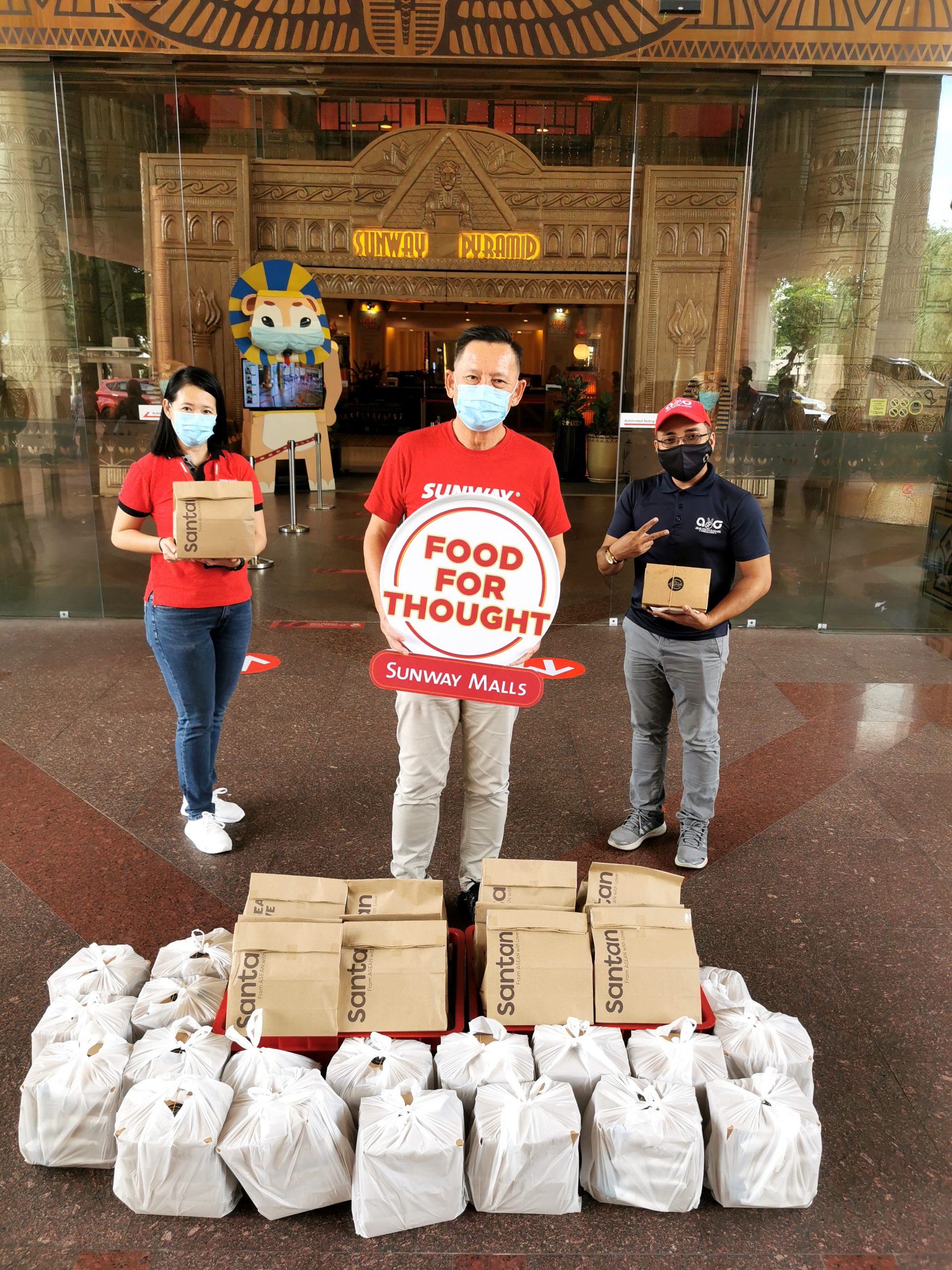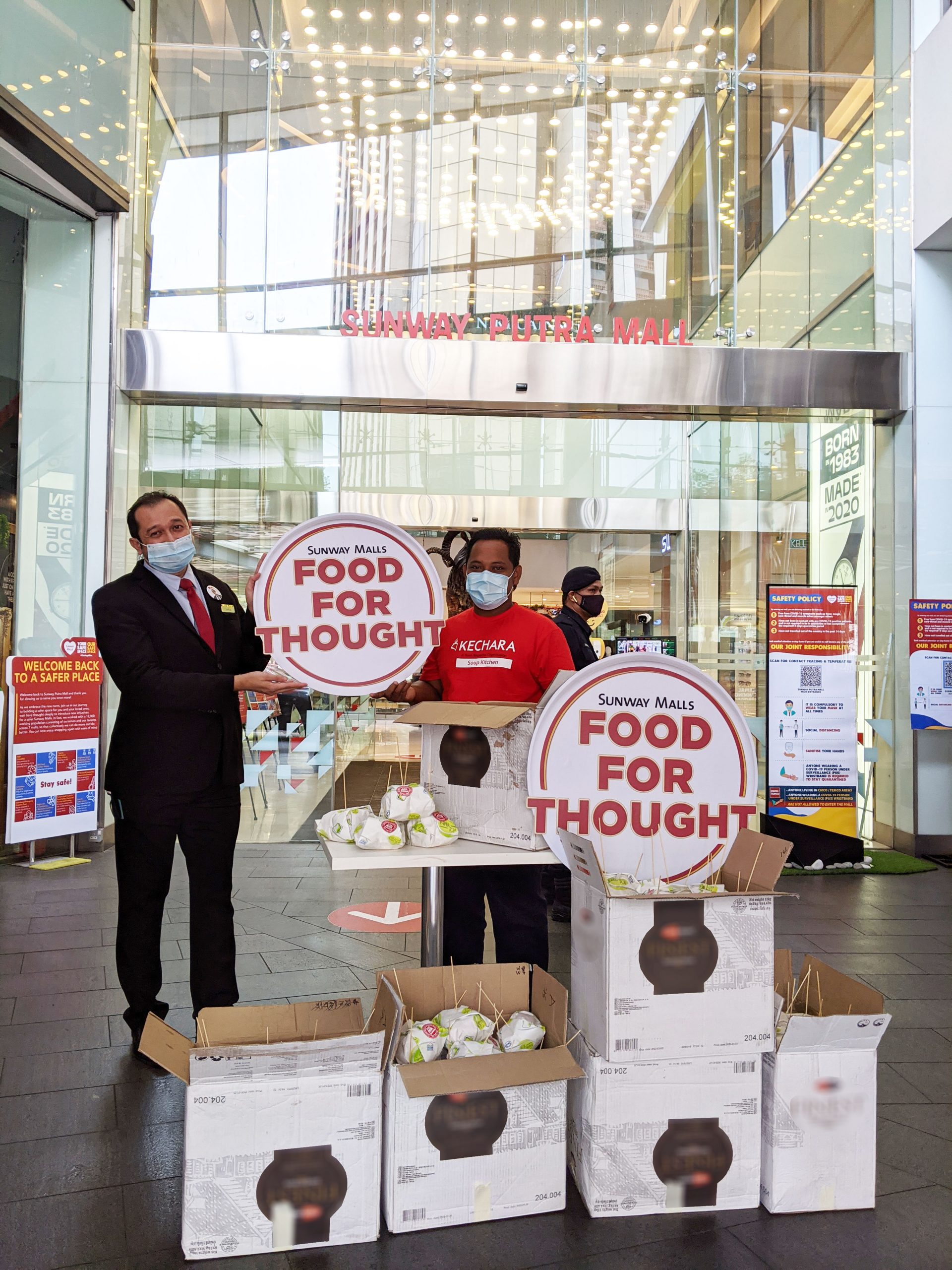 Shouldering the burden together
Beneficiaries were the homeless and those residing in People's Housing Project (PPR) flats who were in need of immediate food assistance.
"Many sole bread winners at the PPR lost their jobs during the MCO and have since been struggling to feed their children. Small-time business owners, such as those selling food and wares, are also badly affected as people are not buying their goods due to the stay at home policy," said Adab Youth Garage founder, Nizam Samsudin.
"Their sufferings often bring our volunteers to tears, and we hope more corporations and Malaysians will come forward to lend a helping hand," Nizam added.
Kechara Soup Kitchen operations director Justin Cheah shared that the organisation had increased food distribution since the CMCO was implemented, as food security is fast becoming a major issue faced by the homeless and vulnerable groups. The food was distributed on a daily basis to identified Klang Valley communities from 23 to 31 October 2020.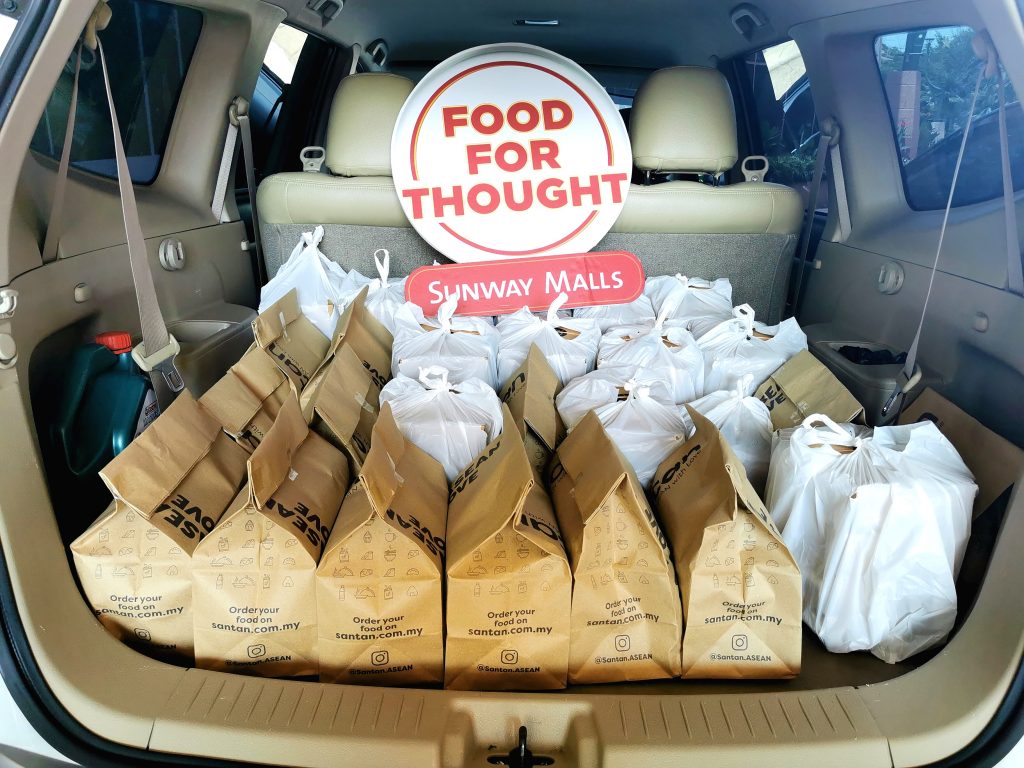 "It is now more important than ever to ensure Malaysians have basic nutrition. We worked with selected tenants in our malls to customise halal and well-balanced packed foods with proteins and vegetables.
"We hope this immediate food aid will help support fellow Malaysians during this challenging period," said Sunway Group deputy chairman Tan Sri Datuk Seri Razman Hashim
Food for Thought
This is the second time Sunway has embarked on the campaign since the onset of the pandemic. The first round was rolled out earlier this year during the MCO period with Sunway distributing packed meals purchased from F&B tenants across Sunway Malls to the B40 communities and those who were hit hard by the pandemic. Approximately, RM100,000 had been invested to drive the initiative and provide immediate food aid to the affected communities in Subang Jaya, Cheras and Johor Bahru.
Alongside Food for Thought, Sunway is also driving the #SunwayforGood Food Bank programme, pledging to collect 40,000 kilogrammes of food by end of the year to feed 25,000 individuals in the B40 families nationwide.
The #SunwayforGood Food Bank programme is a subset of our #SunwayforGood initiatives that have benefitted 38,487 lives this year.
The initiative is in line with our commitment to the UN Sustainable Development Goals of zero hunger and leaving no one behind, with aims to ensure the underserved in our communities have proper meals and nutrition needed for good health.
< Previous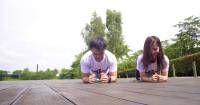 "Board" Meeting Takes on a Whole New Meaning!
Next >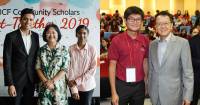 Embarking on an Unforgettable Journey with Cambridge and Sunway