Sunway iLabs continues partnership with JETRO Kuala Lumpur for stronger Malaysia-Japan ties
3
-min read
 Sunway Innovation Labs (Sunway iLabs) recently completed its Digital Transformation Acceleration Programme in collaboration with the Japanese External Trade Organisation (JETRO) Kuala Lumpur.

The programme is part of Sunway's effort to expand Malaysia-Japan cross border partnerships and develop solutions for the betterment of the environment and humankind.
As the saying goes: "If you want to go fast, go alone; if you want to go far, go together". – and this is certainly how Sunway intends to move forward.
Believing in the importance of partnerships to go further, Sunway through its innovation arm, Sunway iLabs, recently wrapped up the second cohort of its digital accelerator programme, first kicked off in 2019.
The three-month accelerator programme was brought to a close as five Japanese start-ups pitched to more than 200 potential business partners comprising start-ups, SMEs, MNCs and government agencies beyond Sunway's ecosystem at a virtual session themed 'Innovation Discovery with Japan' on 18 March.
Leading up to the final pitch, Sunway iLabs mentored five companies – Funlead, Synspective, Aerosense, Toyeight and Studist – based on their product verticals and organised business matching with relevant local partners for commercialisation, corporate feedback, pilot testing as well as research and development.
Throughout the entire programme, the companies focused on five verticals of agritech, proptech, smart cities, edutech and software as a service (SAAS) and were given access to resources across our 13 business divisions and Sunway City Kuala Lumpur's (SCKL) ecosystem for potential partnerships, talent recruitment and market intelligence research.
Aiming to discover the potential of each company and how their expertise can be further developed in Malaysia are aligned with our ultimate goal to position SCKL as a living laboratory, bringing in experts to generate sustainable, real-world solutions for future urban spaces towards the betterment of the environment and humankind.
Sunway Group Chief Innovation Officer and Sunway iLabs Director Matt van Leeuwen is a strong believer in fostering the right environment for the growth of entrepreneurship in Malaysia.
"We first developed the Sunway iLabs – JETRO Kuala Lumpur accelerator programme in 2019 to help fast track the growth of Japanese companies into the Southeast Asian market, using Sunway's ecosystem in Malaysia as a launchpad for success. We provide consultation and market access by facilitating discussions between Sunway business units and the Japanese start-ups, as well as connect them with industry partners, researchers, and even venture capitalists. With the completion of the Digital Transformation Acceleration Programme and the business matching exercise, we hope to see further collaborations between these high-potential start-ups and the correct partners within our ecosystem to develop successfully together." – Matt van Leeuwen
JETRO Kuala Lumpur Managing Director Mai Onozawa echoes his sentiments, reiterating the benefits the programme has brought the five start-ups who have considered Malaysia as a launchpad to the rest of the region.
"In recent years, JETRO has been focusing on supporting collaborations among talented start-ups and big companies of Malaysia and Japan through digital technology. In collaboration with Sunway who has opened its networks and resources, we have been able to intensify the support for Japanese companies finding their partners and expanding their businesses in Malaysia." – Mai Onozawa
Smart Drive and Allm Group are the two start-ups of the first cohort of the Sunway iLabs-JETRO Kuala Lumpur accelerator programme. Establishing an office in Sunway FutureX, both companies have since begun performing pilot projects with the support of different Sunway business divisions.
SmartDrive is currently working on reducing traffic accidents and improving road safety in Malaysia and Southeast Asia through its cloud service that produces visualisation of driving data and safe driving support. On the other hand, Allm Group is currently working with Sunway Medical Centre to advance emergency medical management in Malaysia, assisting hospital communications between doctors and patients for health progress, appointments and delivery of drugs.
Ultimately, Sunway iLabs intends to continue providing tech start-ups with an avenue to expand their businesses that will lead to the adoption of more sustainable practices. Sunway will continue to find opportunities to forge more partnerships and collaborations to move one step closer towards becoming a living lab and a model sustainable city in Malaysia now and in the years to come.
< Previous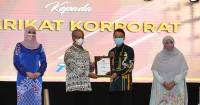 Yet another feather in the cap for Sunway's CSR efforts
Next >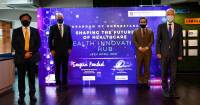 Sunway iLabs x AstraZeneca: Breaking Barriers in Digitalising Healthcare