Sunway iLabs x AstraZeneca: Breaking Barriers in Digitalising Healthcare
The MoU signing ceremony of the first Health Innovation Hub (HIH) in Malaysia.
3
-min read
Sunway has forged a new partnership with AstraZeneca, a biopharmaceutical company to establish Malaysia's first Health Innovation Hub (HIH).

The primary aim is to bolster treatment of non-communicable diseases (NCDs) and support patient experience by strengthening the primary care of Malaysia's healthcare system.
Sunway is now another step closer to positioning Malaysia at the forefront of healthcare digitalisation.
Witnessed by the Ministry of Science, Technology, and Innovation (MOSTI) and supported by Sunway University, a Memorandum of Understanding (MoU) signing has formed a new partnership between Sunway iLabs and AstraZeneca, establishing the first Health Innovation Hub (HIH) in Malaysia.
The Hub will play a vital role to spur the country's research and development activities to bolster Malaysia's battle against NCDs through a more robust primary care system.
It is in our plan to expand the accessibility of healthcare services through channel diversification using digital innovation and partnerships, making this joint initiative one of the many for the conglomerate to leverage.
The burden of NCDs in Malaysia
A morbidity survey in 2019 revealed that NCDs account for 71% of premature deaths in Malaysia, and the surge of patients with NCDs has presented a major challenge to the healthcare system.
This challenge is further brought to light amid the pandemic. With statistics showing COVID-19 patients with NCDs are at a higher risk to develop complications more severe than others, with over 85% of fatalities in Malaysia living with pre-existing conditions such as diabetes and hypertension.
Turning no blind eye to these alarming statistics, AstraZeneca Malaysia Country President, Dr Sanjeev Panchal believes that the solution to this lies in strengthening Malaysia's primary care ecosystem.
"With a robust ecosystem in place, we can address the prevalence of NCDs, better support patient experience, and enable digital health innovation. By infusing digital technology into healthcare, we are able to solve healthcare problems 'beyond the pill', providing digital solutions that are affordable, universal, high-quality, and patient-centric. This creates unique experiences for patients which ultimately delivers more powerful healthcare over longer term." – Dr Sanjeev Panchal, country president of AstraZeneca Malaysia
Paving the way for solutions 'beyond the pill'
With this being said, the HIH seeks to empower and equip start-ups and innovators to deliver new, sustainable solutions to address these pain points using digital technologies.
Through its open-innovation approach, the selected local start-ups and entrepreneurs will have access across Sunway's ecosystem of 13 business divisions, on top of using Sunway City Kuala Lumpur as a living laboratory to bring their innovations to life.
Furthermore, AstraZeneca will also grant them access to their A. Catalyst Network of global health innovation hubs which will connect them to the talent and expertise from the hubs worldwide.
"AstraZeneca aims to create partnerships with local healthcare innovators and provide them with the platform and tools needed to build sustainable ecosystems and further drive digital health innovation. This is aligned with the government's priorities to integrate new technologies into patient pathways to combat the impact of NCDs," Dr Sanjeev added.
Chief Innovation Officer of Sunway Group and Director of Sunway iLabs, Matt Van Leeuwen said the joint initiative is also aligned with Sunway iLabs' vision to become ASEAN's leading integrated innovation platform that inspires people to design, test, and launch sustainable solutions for a better future.
The sentiment to drive healthcare solutions and innovations that will impact lives was echoed by the Founder and Chairman of Sunway Group, Tan Sri Sir Jeffrey Cheah.
"The HIH is another initiative to advance our goal of positioning Sunway City Kuala Lumpur as a living laboratory. It will form a part of our sustainable smart city ecosystem that fosters collaboration between the private sector, academia, civil society and engender research and innovation aimed at solving real-world problems in real time." – Tan Sri Sir Jeffrey Cheah
< Previous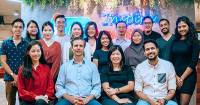 Sunway iLabs continues partnership with JETRO Kuala Lumpur for stronger Malaysia-Japan ties
Next >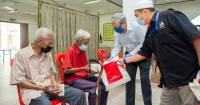 A Raya to Remember: Sunway's Message of Togetherness and Sacrifice this Raya