A Beacon of "Light" this Raya Season
7
-min read
This year, Sunway's Raya video shines a light on the importance of society's role in taking small steps every day to create a better and more sustainable tomorrow.
As part of the Group's signature #SunwayforGood Raya Cheer initiative, Sunway has partnered with the Malaysian AIDS Foundation (MAF) to help improve healthcare access for families and patients impacted by HIV/AIDS through essential dry groceries and financial aid distribution.
With the ease of restrictions, the Raya celebrations this year was much anticipated as many were overjoyed at the prospect of returning home to their family and loved ones.
Set against the backdrop of families gathering again for the festivity, Sunway's Raya video entitled 'Seri Cahaya Aidilfitri' follows Aida, a little girl caught in the excitement of decorating and helping her family cook as Raya approaches. In the video, Aida springs into action to fix a "light" predicament by devising a plan to harness solar energy and keep the Raya celebration going.
Inspired by how citizen-led efforts can spearhead transformation and alter the course of our planet, the video serves as a reminder that each of us has a voice to beckon change for a better tomorrow.
As a responsible corporation, Sunway is committed to championing the use of renewable energy, one Sunway city at a time.
'Seri Cahaya Aidilfitri' can be viewed on Sunway Group's official Facebook, Instagram, LinkedIn, and YouTube pages.
Innovating a Sustainable Change Beyond Raya
As the Group looks into celebrating our 50th anniversary in 2024 by pledging to achieve net zero by 2050, with an interim checkpoint in 2030, Sunway has generated some 9,000 MWh of energy in 2021 through solar panels installed across Sunway cities – enough to provide 750 houses for one full year.
Besides that, the Group's 2022 festive packets released earlier this year incorporate a timeless approach to three significant religious and cultural celebrations in the country, including Raya, to minimise wastage and reduce the need for unnecessary production.
Illuminating Smiles by Doing Good
This year, Sunway extends Raya Cheer to some 20,000 B40 beneficiaries across Malaysia through essential items and financial aid distribution worth more than RM200,000.
In tandem with our mission to advance inclusive growth, Sunway has also forged a long-term partnership with the Malaysian AIDS Foundation (MAF) to reach out to families and patients affected by HIV/AIDS.
Going beyond just providing food and monetary aid for hundreds of families and patients impacted by HIV/AIDS in Sabah and Sarawak, Sunway and MAF aim to support B40 people living with HIV (PLHIV) in the states of Borneo by improving their healthcare access through the Sunway Health Outreach Programme for Everyone (HOPE) – in alignment with the United Nations Sustainable Development Goals (UN-SDGs) core principle to "leave no one behind".
"Corporate social responsibility is very much part of our DNA, and our #SunwayforGood initiatives have reached more than half a million beneficiaries since its inception in 2017. This year, in our pursuit to be more inclusive, we have committed to a long-term partnership with the Malaysian AIDS Foundation. Each programme in our #SunwayforGood initiative is a chance for us to reach out to even more families in need throughout the country. It is our promise to continue doing what we can to bring about a change in their lives," said Sunway Group deputy executive chairman Tan Sri Datuk Seri Razman M. Hashim.
The Sunway-MAF partnership started in December 2021 when Sunway came on board as MAF's official sustainability partner. Central to this partnership is the annual Sunway-MAF Tun Dr. Siti Hasmah Award and Sunway's long-term support for MAF's major projects, serving underprivileged communities living with HIV in Malaysia's Borneo states of Sabah and Sarawak.
"The Foundation is truly humbled by the generous display of compassion by Sunway for our community members. Addressing their vulnerability is integral in our mission to end AIDS, and one that is also aligned with our aim to create a more sustainable response to the epidemic. We look forward to continuous partnership with Sunway for our work to improve access to antiretroviral drugs for the economically disadvantaged patients, particularly in the rural corners of Sabah and Sarawak," said MAF Chairman, Professor Dato' Dr. Adeeba Kamarulzaman.
Sunway HOPE aspires to contribute more than RM4 million over the span of five years to support beneficiaries impacted by HIV/AIDS in Sabah and Sarawak through CSR programmes involving Teratak Kasih Tok Nan as well as the Sarawak Health Access Programme in Sarawak and the SAGA Health Access Programme in Sabah.
The distribution of other essential items this festive season – including groceries, hand sanitisers, body wash, vitamin C, face masks, Raya cookies, soy sauce, umbrellas, white coffee, stationery sets, and cash vouchers from April to May 2022 – is a concerted effort.
The good work involves the coming together of various business divisions across Sunway, namely Sunway Theme Parks, Sunway Malls, Sunway Property, Sunway Hospitality, Sunway Healthcare Group, Sunway PALS and Sunway Pharmacy, alongside key partners such as Yayasan Kebajikan Negara (YKN), the Malaysian Red Crescent Society (MRCS), the Selangor Youth Community (SAY), Majlis Bandaraya Petaling Jaya (MBPJ), Mutiara Food Bank, and Persatuan Kebajikan Anak Muda Balik Pulau. 
Leading up to the Group's 50-year milestone in 2024, Sunway, through #SunwayforGood, has touched the lives of over half a million beneficiaries and aims to positively impact millions more across the country by bringing inclusive and sustainable initiatives to all.
Sunway would like to wish all celebrating, Selamat Hari Raya Aidilfitri, Maaf Zahir dan Batin. While we celebrate the light that the festivity brings, may we continue to look out for both our planet and the people around us. 
Even the smallest commitment counts. 
< Previous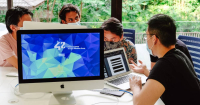 To Code or Not to Code? 42KL's Piscine Survivors Sheds Light on Their Dive
Next >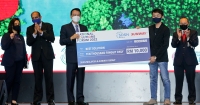 Changing the Game for a Better Nation