But First, Compassion
4
-min read
Giving back to society pumps through the heart of Sunway. Under the #SunwayforGood banner, we work tirelessly to reach out to underserved communities nationwide, ensuring no one is left behind.

Through various initiatives over the years, our Sunway family has continuously stepped up to the plate to uplift and touch countless lives by volunteering their time, effort and compassion to bring some light in what may seem like the darkest of times.
When disaster hits, support and helping hands are the most important – this is the lesson that Sunway Lost World of Tambun general manager Nurul Nuzairi bin Mohd Azahari has taken to heart. Nurul has had his fair share of firsthand experiences when it comes to being on the receiving end and helping others struck by the ill-effects of nature.
Prior to joining Sunway in 2017, his home was among those affected by the 2017 floods in Pahang. The hopelessness of being disconnected from the outside world whilst being inundated with clean-up works and ensuring the safety of everyone has since inspired him to do more whenever and wherever he can.
His first experience volunteering with Sunway involved resolving electrical issues for a home in an Orang Asli village, as well as ensuring each house was powered with the necessary for comfortable living.
"We went into Kampung Orang Asli Sungai Choh and did some repair works, making sure that every single line could be used. We've been going around and doing small things that make a big difference for the local community," Nurul shares.
From gotong-royong activities that include cleaning and painting houses to delivering food supplies, Nurul's charity comes from within – seeing it as a priority and ever ready to contribute to the community to show Malaysians what being a Sunwayian is about.
During the recent floods that wreaked havoc in most parts of Selangor, Pahang, Johor and Perak, Nurul once again sprang into action with his team. They focused on the town of Teluk Intan, providing food and cleaning equipment to ensure the frontline workers and victims were well fed and equipped with the right resources to manage. Even though cleaning was tough due to the overwhelming mud residue left behind, the team did their best to make the homes comfortable enough to reside in again.
"I am proud to be a Sunwayian who can contribute to the community no matter the cost or nature of assistance we are capable of providing. We are all citizens of this world, and we should do our part to help humankind whenever we can," Nurul adds.
Following and setting a good example
For Susan Sae, she is simply grateful to have been given the opportunity to help others through the guidance of Mr. Bernard Paul, Sunway Group general manager of CSR, Internal Branding and Events.
Having joined Sunway in 2012, she also became a committee member for Kelab Sosial Sunway (KSS) the same year to help organise holistic wellness programmes for Sunway staff.
As part of the sales and marketing department of Sunway Property Ipoh, she has been involved in organising mini sports carnivals for the Sunway Ipoh staff from various business units, as well as coordinating countless volunteering experiences over the past ten years.
During the third MCO in mid-2021, Susan was one of those onsite to distribute food to warm the hearts (and stomachs!) of frontline workers on duty at Stadium Indera Mulia PPV in Ipoh.
"It feels great to be able to help each other. I will always try to be part of the volunteer team when I have the time, or present when help is needed," Susan says. "I feel the need to help, and always seek out ways to do so."
Indeed, this spirit of taking the first step was what drove Susan to help those affected by the recent floods in the state. Her team immediately checked with the local council on what aid was required – in this case it was tools to clean up after the floods. With haste, they prepared the items requested and ensured they were delivered to the right hands.
In the words of famed author Charles Dickens, "No one is useless in this world who lightens the burdens of another."
Standing as a Force for Good
Grounded by our firm belief in doing well by doing good, #SunwayforGood was incepted with three key focus areas – Education, Healthcare and Community Enrichment, which exemplifies the Group's sustainability and social responsibility efforts that bring about far-reaching impact for our communities throughout Malaysia.
As of today, our #SunwayforGood initiatives has supported and reached out to hundreds of thousands of beneficiaries nationwide, with a goal to touch a few million lives by 2030.
Aligned with our commitment to the 17 United Nations Sustainable Development Goals (UN-SDGs) alongside our environment, social and governance (ESG) targets, our CSR initiatives underscore the spirit of giving that is deeply ingrained in our corporate DNA while cultivating the spirit of volunteerism among our people towards making a difference in the lives of others – as exemplified by Nurul and Susan.
Thank you, Nurul, Susan and all other Sunwayians who have poured their heart and soul into helping others in their time of need!
< Previous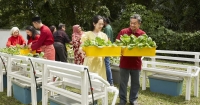 Sowing Seeds of Kindness this Lunar New Year
Next >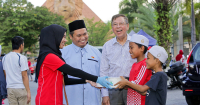 Doing Well by Doing Good