How Industries Are Roaring Back to Spur Tourism
5
-min read
As we roar back to pre-pandemic normalcy, the industry that was the hardest hit is now facing a dilemma – manpower and a new set of endemic-centric rules.

With hospitality and tourism forming a major portion of Sunway, we find out what is needed for our various businesses to cater to the everchanging demands of the hospitality industry in today's landscape.
The second half of 2022 is well underway, and things are slowly but surely returning to normal. After some two-plus years of empty halls, quiet streets and restaurants, this is a welcome sight, but the question is: are we ready for the influx of holidaymakers just yet?
Earlier this year, it was reported that the tourism industry may not be able to contain the sheer number of projected five million arrivals, something that Alex Castaldi, Sunway City Kuala Lumpur (SCKL) Hotels senior general manager is aware of.
With the Sunway Resort Hotel newly refurbished and revamped, there is much preparation across all levels to be done to elevate the hospitality experience.
"We have recommenced our reskilling and upskilling trainings such as leadership coaching programmes and corporate image training to create memorable experiences for our guests.  New and enhanced staff benefits are also currently being reviewed and applied, not only to attract potential candidates but also part of our employee retention strategies," Alex shares.
Sunway Hotels & Resorts is also expanding extensively to cater to the influx of tourists. This includes participating in job fairs and posting hiring calls on the hotel's LinkedIn page. Alex points out that travel behaviour patterns have definitely shifted, and the future of hospitality weighs heavily on digital transformation and sustainability.
"Hotels have to create a more seamless guest experience, by automating and streamlining the travel process – from searching for a place to stay, to booking and using amenities," he notes. "Innovations such as one-click or one-tap check-in, digital concierge services, smart in-room technology, and enhanced direct booking engines are transforming the industry."
Some of the offerings that visitors can look forward to are specialty rooms and family-friendly facilities; the addition of renowned international food chains and a new poolside restaurant. Year-end festivities will also bring a host of exciting activities at Gordon Ramsay Bar & Grill's first Christmas and New Year celebrations in SCKL.
More than A Mall
While most of the country was brought to a standstill, shopping malls were allowed to partially open to provide essential services to the public. Sunway Malls provided some relief to retailers by offering up to RM150 million rent free to non-essential retailers during the initial stages of the MCO period.
Loo Hoey Theen, Sunway Malls general manager of marketing and business innovation shares that the malls were able to make the most out of the dire situation by adapting and innovating.
This included elevated safety practices, digital, contactless amenities such as Sunway Smart Parking, a multi-platform communication channel Customer Engagement Hub and a personal shopper service in Sunway Pyramid for those who wish to avoid crowded spaces.
"With the better than before traffic in the malls, certainly more manpower is required to handle this influx – we have consistently hit 100% recovery since Q4 2021. We have upskilled our employees to be more digital and social media savvy and this has allowed us to service our customer in shorter, more efficient timeframes," Loo shares.
Initiatives in the pipeline include a virtual concierge, as well as Usher Bots – robots that wander around the mall to interact with and assist customers. Hoey Theen adds that the malls have been ramping up on customer engagement campaigns, even revitalising the link between Sunway Resort Hotel and Sunway Pyramid so the holidaymakers and mallgoers have a new F&B area with a million-dollar view to enjoy.
"We definitely look forward to welcoming back tourists near and far to new and exciting outlets for shopping and dining – and most of all revitalising the synergy of all these integrated properties to welcome global visitors back to Sunway Malls again."
Sharing Awesome Moments
With the motto 'Connect, Care and Extra Miles', Sunway Lost World of Tambun (LWOT) is more than ready to welcome visitors from all walks of life this year-end.
To curb the manpower shortage, local talents and fresh graduates were hired. While many started off with little to no experience in the industry, Sunway LWOT provided them with relevant training to empower them in their respective roles. As business demand increases, Sunway LWOT is also on the lookout for passionate individuals to be part of the team.
Nurul Nuzairi, Sunway Lost World of Tambun general manager shares, "As we enter the endemic phase and new norm, we have developed a more comprehensive way to minimise unnecessary physical contact by going cashless and embracing digital practices. Along with these methods, we are also introducing attractive promotions to encourage our visitors to choose this method of transaction instead."
With strict hygiene and safety protocols set in place, Sunway LWOT is also ramping up its efforts to cater to the increased number of visitors in Q4 by preparing additional accommodation that will complement existing staycation and lodging choices such as Lost World hotel as well as Glamping and the Floating Villa. The theme park also recently welcomed a baby hippopotamus named Jaguh to its lineup, and with the Screamfest to be held in October – the opportunities for fun times are endless!
< Previous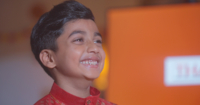 "Letting Light Lead the Way"
Next >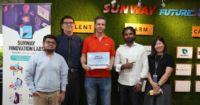 Innovative Energy Solutions Trump At Sunway's Make It Challenge Hackathon